Zach Brooker is a 6-foot sophomore guard who is now a reserve at USC. Still, his roots were firmly in the San Fernando Valley, growing up and playing basketball alongside many Division I professionals and athletes. Brooker is a two-time Open Division champion, Marmonte League second team, selection All-Academic of Ventura County and a member of the National Junior Honor Society.
Brooker spent his first three years at Sierra Canyon in Chatsworth, Calif., playing alongside various NBA and Division I talents like himself, playing a vital role in helping the team win multiple championships and establishing the culture of future teams. Brooker maintained a solid position at Sierra Canyon and was a consistent punch off the bench in his marksman and defensive role while playing among some of the best California has ever seen.
Zach enjoyed all the opportunities Sierra Canyon presented on and off the court, but ultimately decided to transfer for his senior year playing his senior year at Calabasas, where he flourished. The decision to transfer wasn't easy for Brooker because he attended Sierra Canyon from a young age, but "I knew I could compete with all these big guys," Brooker said. "I just needed more reps and looks." This move was exactly what Brooker did while averaging 20 points per game in the Marmounte League playing combo guard.
While Brooker steadily improved year after year, he was a product of his surroundings, playing with various highly touted teammates. Names included such as Marvin Bagley (2019 NBA Draft No. 2 pick by the Sacramento Kings and currently with the Detroit Pistons), Remy Martin (NCAA Kansas Champion and previously Arizona St.), Cody Riley (UCLA), Cassius Stanley (Detroit Pistons), Duane Washington Jr. (Indiana Pacers), Christian Koloko (Toronto Raptors) and Scotty Pippen Jr. (Los Angeles Lakers) are some of his teammates at Sierra Canyon.
Brooker is pictured alongside his Sierra Canyon teammates Scotty Pippen Jr. (Los Angeles Lakers), Christian Koloko (Toronto Raptors) and Kenyon Martin Jr. (Houston Rockets) while taping a game at Sierra Canyon.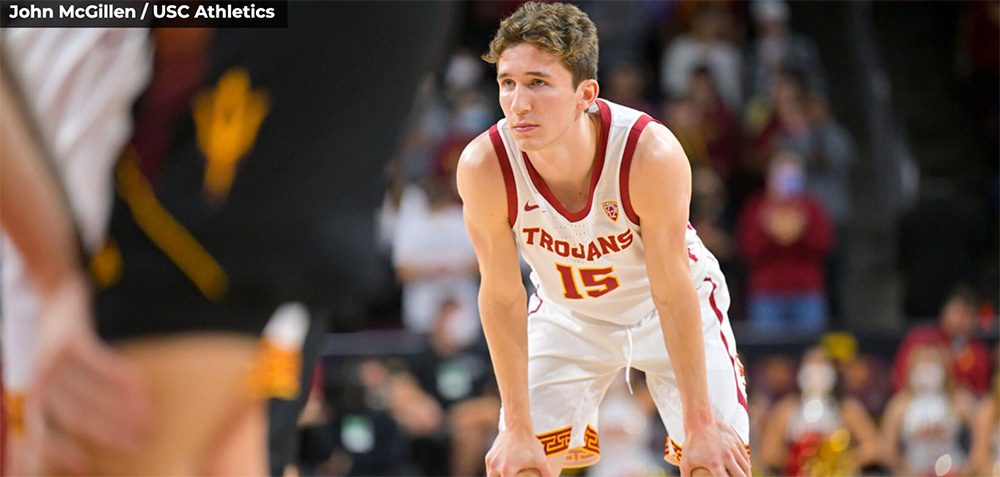 While Brooker's time at Sierra Canyon was for his first three years of high school and saw great minutes in 2018 and 2019, Brooker helped the Trailblazers win back-to-back Open Division state championships.
Brooker is now looking to expand her role at USC and make history in a top college program.