EAST GARFIELD PARK – It took a "leap of faith" for Ana Sierra to make her women's basketball league a full-time job.
The West Side resident was fired from her downtown job in 2019, staring at her computer and tweaking her resume. But Sierra has always loved the gym more than her office. She wanted to be an entrepreneur and hoped to find a way to empower women and girls who looked like her.
And what Sierra – a former college player at West Virginia State University – knows best are the hoops.
"I was looking for open trails. Ladies playing ball. I didn't really see that, "said Sierra, a New York native who moved to Chicago in 2010." I always wanted to do the hoop.
So Sierra started her own league – and made it her full-time job after being fired. Ana Sierra Women's Basketball League began her seventh year on Tuesday at the JLM Center in East Garfield Park, 2622 W. Jackson Blvd.
The semi-professional league features players in their 20s and 30s, many of whom are notable former college hoops and foreign professionals. The games take place on Tuesday and Thursday evenings at the JLM until the end of October.
Sierra is a player, team captain, organizer, promoter, accountant, league commissioner and personal friend of the 60 women playing on six teams.
Sierra believes grassroots women's basketball can be a successful business on the West Side and beyond. League games became spaces for the community to come together, and on opening night last week, more than 200 people filled the stands.
"I want to open doors for young women who can be inspired by our older generation playing basketball," Sierra said. "The doors have been opened. But there is still a lot of work to be done, because I still think that we are not really recognized as we deserve. Not only as athletes, but also as women.
Sierra rocked her red Nike 95 Air Max sneakers and greeted everyone with a hug. A young girl handed him a pencil drawing with the league slogan: "Girls Hoop, Too."
Friends, family and community members have come together to help Sierra keep the league going – which outlived many others who fizzled out after a year or two.
Several hours before kickoff on Tuesday, Sierra rushed into the gym and handed out chores. Joe Hemphill and Charee Tousant worked together on a banner, Monte Springs took care of the stopwatch, "Juice" hooked up the speaker cables, and Krystal Hill continued to tape and reattach a poster that couldn't quite fit. made stick to the wall.
"I'm really, really happy that the people in my support system who were with me then are still with me now," Sierra said. "We are working collectively to keep this going. "
League player Britney Landers assembled a ball rack with the help of her 2-year-old daughter, Brielle. Landers said it takes the determination of someone like Sierra to create opportunities for women to play basketball on the West Side.
"Ana, when she focuses on her league, it's her pride and her joy. It is complete, said Landers. "With everything going on, there isn't as much of women's basketball being shown in Chicago. For Ana, for her league to be a stepping stone as much as it does, it's very telling for everyone to see it.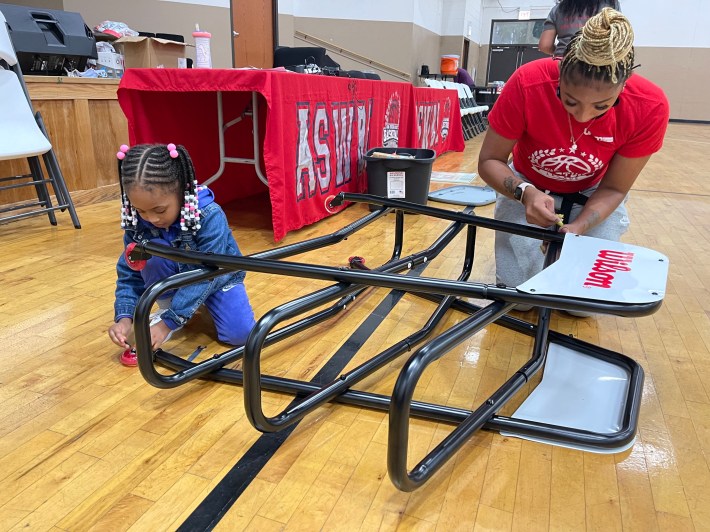 Sierra also credits the mutual support of other black entrepreneurs for keeping the league afloat, even during an interruption caused by the pandemic. The league is sponsored by Urban Fêtes, a lifestyle brand that hosts silent nightclubs all over town. In the downtime between in-game action on Tuesday, Sierra handed the mic over to local entrepreneurs so they could talk about their businesses.
Terrance Robertson of T-Kay's Katering served jerk chicken and dirty rice. Sierra's godmother, Monica Jenkins, sold tickets for $ 5 at the front desk; in return, Sierra provided table space to sell her Mary Kay beauty and skin care products. Calvin King, founder of Free Lunch Academy, a non-profit organization, read his children's book "Be A Buddy Not A Bully" to children at his table on the sidelines of the courthouse.
Family Ties Basketball player and captain Terranika Reynolds made this year's jerseys through her company, Be Great Printing. Like Sierra, many players in the league are entrepreneurs.
"When you have a bunch of women in the same space who love to do what they do every day and don't hate anyone, it's amazing," Reynolds said. "It's just the women who are themselves. They come here, put on tracksuits, T-shirts, shirts and are free. Get buckets; that's it."
Reynolds, who had an accomplished career at Marshall High School and then Malcolm X College, traded buckets with Labrenthia Murdock-Pearson of The Truth, a former Division II player at Lewis University.
Family Ties Basketball has fielded a team in the league since its inception, and the players used their experience to beat newcomer team The Truth to a victory on Matchday 1.
Murdock-Pearson was just happy to play basketball. The sales professional said the transition out of life as a competitive player was tough, but Sierra's league offers a rare opportunity to show that she still has a scoring touch and a smooth shot.
"It gives me that spark and that fire that I don't have at work," Murdock-Pearson said. "It's good to have leagues like this that Ana has created for women because there isn't a lot to do for older women in the sport. Nice to have that to still scratch that itch that we have. This itch of competition.
Sierra is hoping the league can be profitable this year. It has expanded its operations and launched sneaker campaigns, mentorship programs, and basketball clinics for the sneakers. She has seen the support and interest in women's basketball grow across town.
"I feel that we are the future. And we deserve it, honestly, "Sierra said. "I will continue to be an activist for women's and women's basketball. "
Sierra concluded Tuesday night with a win, pulling in some key lay-ups in the last drink game with her own team, ASWBL Gold.
The determined entrepreneur has another goal on his list: to win his own basketball league for the first time.
Subscribe to Block Club Chicago, an independent, 501 (c) (3) newsroom run by reporters. Every penny we report on Chicago neighborhoods.
Already subscribed? Click here to support Block Club with a tax-deductible donation.
Listen to "It's All Right: A Podcast from Block Club Chicago" here: